While we all hope for perfect weather when planning our next adventures, it's only natural that some vacations will be affected by wind and rain. This is especially true in places where inclement weather is quite common, such as the Pacific Northwest or the United Kingdom. In any case, it makes sense to bring some travel gear that can help, whether you have a favorite set of rain boots or a waterproof jacket that travels well.
The best travel umbrellas will allow you to see all the sights of your destination without ending the day soaking wet. Or, if you're traveling to an especially sunny destination, a good travel umbrella can help protect you from the direct sun and help keep you cool. With that in mind, we take a close look at many of the best travel umbrellas on the market today with a focus on finding ones that are affordable, compact, and stylish.
If you're looking for a travel umbrella you can count on, read on for our top picks.
From $19.99 on Amazon
Some travel umbrellas are more wind resistant than others, and the Lanbrella Windproof Travel Umbrella is known to be tough no matter the wind speed. Despite its small size when folded for transport, this umbrella features a 46-inch canopy size that will provide full coverage while on the go. The canopy is also made of high-density 210T waterproof material that absorbs water to keep you dry.
$59.99 $39.99 at Amy's Umbrella
This elegant and stylish umbrella with a wooden handle is perfect for those who want to make a statement. Made from 100% waterproof and lightweight materials, this umbrella is also strong thanks to its windproof, eight-rib construction. Another feature worth mentioning is its UPF 50+ UV protection, which can prevent your skin from sun damage while traveling. This travel umbrella also comes with a five-year global guarantee, so you can be sure your investment will be worth it.
$30 at Eddie Bauer
If you're hoping for a basic auto-open travel umbrella, the Eddie Bauer Auto Open/Close Umbrella might just do the trick. This umbrella comes in five classic colors and automatically opens and closes with the push of a button. Other notable features include a fabric storage sleeve, a comfortable rubber handle, and a ventilated canopy built to withstand high winds.
$19.99 at Umbrellaverse
This reversible umbrella closes inside out, preventing it from being blown away or destroyed in winds up to 60 miles per hour. Several beautiful designs are also offered, which can give your umbrella the look of a cloudy blue sky, sunflowers, or a pink flower, among others. The inverted design also helps prevent heavy dripping once rain gets inside. However, it's worth noting that this umbrella doesn't collapse, so it may be better suited for a road trip.
$59 at Davek New York
The Davek Mini Umbrella fits in your hand when closed, making it perfect for travelers who are short on space or want an umbrella just in case. This umbrella comes in 10 different colors, so you can match it with your rain boots and other travel gear. Additional standout features include reinforced fiberglass ribs and a matching carry case.
$65 at Hunter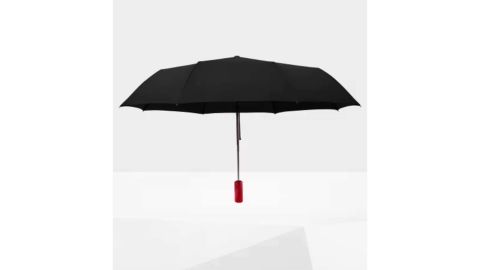 If you're looking for a travel umbrella that's stylish, reliable, and practical, the Hunter Compact Umbrella is a solid choice. This umbrella opens and closes automatically and features fiberglass and fiber-reinforced plastic that can help it withstand the elements. The umbrella also comes in three different colors: black, navy, and dark olive.
$59.99 $39.99 at Amy's Umbrella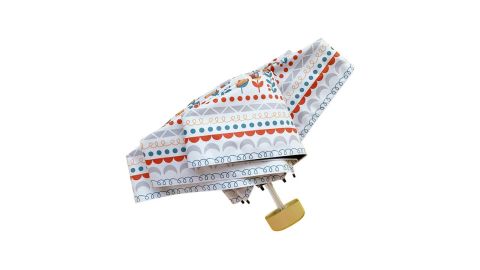 This compact and stylish umbrella was designed to be carried all the time due to its small size, yet offers the protection and functionality of a full size umbrella. In fact, its wind-resistant six-rib construction and high-quality waterproof materials ensure this umbrella will stand the test of time. The manufacturer even backs this up with a five-year global warranty.
$60 at Amazon
This compact travel umbrella from Tumi automatically opens or closes at the touch of a button, and is small enough to fit in your backpack or overnight bag. Although it weighs less than a pound, it has a 35-inch canopy that provides the coverage most people need to protect their clothes and belongings in the rain. Other standout features include a custom molded handle, matching storage sleeve, and a rubberized wrist strap for easy portability on the go.
From $21 at Vera Bradley
While the Vera Bradley brand is known for its uniquely designed bags and accessories, it also offers a miniature travel umbrella in the same signature style. You can choose from three Vera Bradley designs, and the small size of this umbrella makes it easy to throw in your bag or carry in your hand. The umbrella's canopy radius is smaller than others on this list at 18.5 inches, so it's best when used by one person at a time.
$59.99 $39.99 at Amy's Umbrella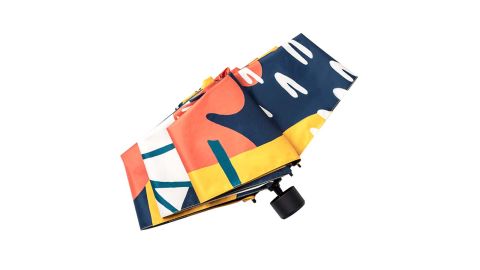 This stylish looking travel umbrella is incredibly compact and comes with the added benefits of UPF 50+ UV protection. It's also lightweight and made from improved windproof and waterproof fabrics that help keep you dry. Designed in the United States, this compact mini umbrella also comes with a five-year warranty.
$16.99 at Amazon
This travel umbrella is especially unique due to its reverse folding mechanism that keeps the floor dry when you get home from a rainy day. It also has an automatic opening and closing button. Made from 10 fiberglass ribs and a premium aluminum frame, this umbrella is built to withstand winds and storms that could ruin other models forever. While it has a 46-inch canopy when fully extended, this umbrella is still lightweight at less than a pound.
$64.95 in REI
If your travel plans take you to the beach, why not choose a sand-free beach umbrella? This folding umbrella from REI provides an 8-foot canopy that maximizes shade, but features two closable windows that can let in some sun if you prefer. Patented sand-free technology helps keep sand from hitting your face and space, and four study pegs help you hold onto the umbrella when it's windy.
$9.99 at Walmart
This budget-friendly travel umbrella comes in 15 different colors to suit your style, and its under $10 price tag will also fit your budget. While basic in functionality, this umbrella is windproof with 10-rib construction and made of durable fabric. Teflon coating technology helps it wick away water and stay dry after use, and it weighs less than a pound, so it's easy to transport. The best part? This travel umbrella comes with a lifetime replacement service.
$29.95 at Amazon
This travel umbrella comes in four different colors and offers a one-touch open and close function. It's made of wind-resistant materials, including nine resin-reinforced fiberglass ribs to withstand the winds. Plus, the hood fabric offers UPF 50+ UV protection so you can stay out of the sun's harmful rays. While small enough to slip into your bag, this umbrella also features a handy wrist strap for easy portability.
$26.34 at Amazon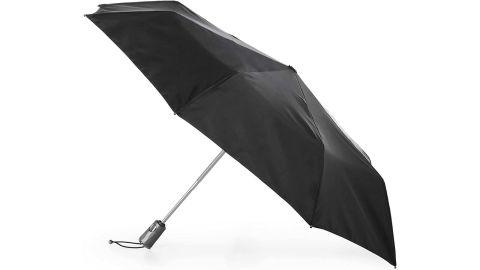 With a 43-inch canopy, this travel umbrella is among the largest options on our list. It is also one of the most wind resistant and offers protection during winds up to 70 miles per hour. An invisible lining helps keep rain off you and your belongings, and special technology ensures it never gets wet after use. The umbrella also features automatic opening and closing, so you can quickly get it ready or put it away with the touch of a button.
$25 in REI
While small when folded and only weighing 8.8 ounces, this compact mini umbrella provides 43 inches of weather protection when fully extended. The Teflon-coated canopy also dries quickly, so you won't have to lug around a wet umbrella for hours. Customers also get a lifetime warranty offered by ShedRain, so you can get a replacement if this umbrella ever blows out on a windy day.
$10.97 at Amazon
The Tumella mini travel umbrella is another option that is small enough to fit in your hand and comes in various colors and styles that can make it a fashionable choice. While it weighs less than 11 ounces, it's built with a strong eight-rib aluminum frame and premium 190T waterproof fabric that helps keep you dry. This umbrella also offers UV protection with a UPF 50+ rating, so you can keep your skin safe during sunny weather too.
$14.99 at Office Depot
This umbrella bag is small enough to fit in a small bag, but can still keep you warm and dry when a storm rears its ugly head. Made from a water-repellent polyester canopy, this umbrella soaks up water with ease. A wrist strap makes it easy to carry on your hand and it's backed by a manufacturer's lifetime warranty. At under $20, this travel umbrella is a bargain for those who need a small umbrella for emergency use.
$16.95 at Amazon
This travel umbrella is made to withstand strong winds thanks to its durable steel construction with nine ribs. You can choose from multiple solid color options, but you can also mix and match strap colors to coordinate with your raincoat or other travel accessories. Other features include an ergonomic soft handle and a wrist strap for easy portability.
$230 at Saks Fifth Avenue
Fashionistas who love the Burberry brand can choose this compact travel umbrella to add to their collection. Made of steel, fiberglass and iron with a telescopic shaft and collapsible design, this umbrella was strong enough to provide protection no matter what the weather. Highlighted with the brand's standard print, this lightweight umbrella was also designed to match Burberry's iconic trench coat.
$79 at Amazon
The Blunt Metro Travel Umbrella comes in eight solid colors, so you can easily pair it with the waterproof jacket and waterproof boots you own. A 38-inch canopy can keep you safe and dry without taking up too much space on a street or walkway, and the fabric comes with UV protection that protects your skin. Blunt says that all of its umbrellas are wind-tunnel tested to ensure maximum strength and quality, and each one comes with a two-year warranty against manufacturing defects.
$11.99 at Amazon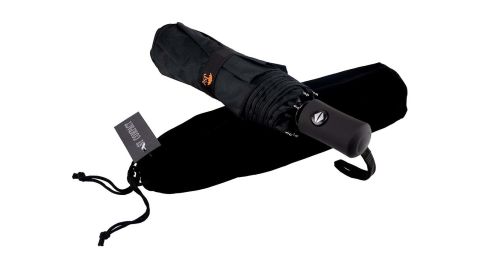 This travel umbrella is one of the smallest and most convenient to pack, considering it's only 10.8 inches long when folded. It's also waterproof and windproof, so it can help you enjoy your travel day whatever the weather. The SY Compact Travel Umbrella also comes with a maximum satisfaction guarantee, so you can return it for a replacement for any reason.
Looking for a travel credit card? Find out which cards CNN Underscored chose as our The best travel credit cards of 2022.