From applying foundation to blending eyeshadow to swiping on blush, makeup brushes touch our faces every day, but we're probably not cleaning these beauty tools as often as we should. Face washing is a daily ritual for anyone who cares about their skin, and maintaining proper sanitation and hygiene of the makeup brushes you use on your face is just as important.
Without regular cleaning, makeup brushes retain bacteria and fungus. "Foundation or powder buildup on your makeup brushes is something you never want to have," says Dr. Shereene Idriss, founder of Idriss Dermatology in New York City and creator of the #Pillowtalkderm series on Instagram. While dirty makeup brushes can spread serious infections like herpes, breakouts are more common and can affect anyone. "The biggest possible negative effect [of not washing makeup brushes] it's acne breakouts due to bacteria buildup and skin congestion," warns Idriss.
Fortunately, this can be avoided by making cleaning your makeup brushes a part of your routine. Here, several skin and makeup experts answer all of our questions about cleaning and caring for makeup brushes.
The general recommendation, according to the professionals we spoke with, is to wash your makeup brushes once a week. This will clean your brushes of oil and bacteria and ultimately help your makeup tools perform at their best.
"How often you should wash your brushes directly correlates to how much makeup you use and how often you use it," says Idriss. "I think a great rule of thumb is to have a good ritual once a week, where you cleanse and give the brushes the respect they deserve because they're applied to your face every day."
The type of makeup your brushes are used for can also affect how often you should wash them. Georgi Sandev, a professional makeup artist who works with supermodels Alessandra Ambrosio and Candice Swanepoel, advises that brushes used for liquid and cream makeup should be cleaned more often than brushes used with powder products, "because that bacteria are more likely to grow over time in a moist environment."
Also, makeup brushes used around the eye area deserve special attention. "Any bit of bacteria or dirt on those brushes can transfer to the eyes and an eye infection is something we just don't have time for," says Idriss.
Sandev points out that makeup formulas can also affect the hygiene of makeup brushes. "If you wear mostly natural or organic makeup, you should wash your brushes more often," he says. "These products lack many preservatives that inhibit the growth of bacteria."
Professionals are also adamant about cleaning brushes between clients, or for those who may be sharing brushes at home. Makeup brushes should always be washed before using them on someone else or you risk spreading bacteria and germs, which can lead to breakouts or infections like conjunctivitis.
Whether you need to sanitize your brushes on the go or are ready for a deep clean, these are the pro-approved products for washing your makeup brushes.
Every makeup artist we talked to had this solid cleanser at the top of their lists, so you know it's a good one. Professionals love it for its antibacterial and conditioning properties, and its travel-friendly solid format that works with both Beautyblender sponges and makeup brushes. It also comes in a jumbo size, the Blendercleanser Pro.
An industry resource for stage and professional makeup, Ben Nye Brush Cleaner is a Sandev favorite for sanitizing. Alcohol-based cleanser disinfects brushes and effectively removes oil-based makeup.
Makeup artist to superstars like Katy Perry, Ariana Grande, and Gwen Stefani, Michael Anthony keeps a small spray bottle filled with this Cinema Secrets cleanser in his kit to sanitize and clean brushes between looks for the same client. The no-rinse formula makes it easy to clean brushes in the blink of an eye.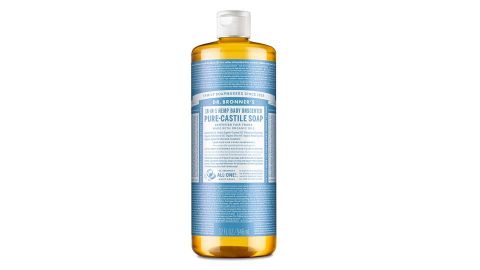 This all-purpose soap, which comes in a variety of scents, is a great makeup brush cleaner, according to Anthony. It's made with plant-based ingredients and is safe for sensitive skin, making it a good choice for those conscientious about using clean formulas.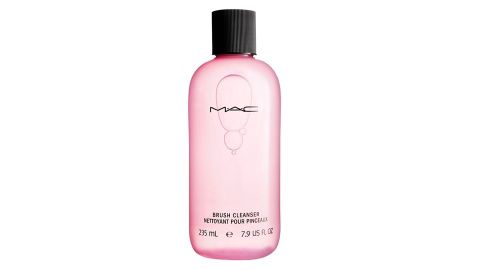 Another no-rinse option that's good for maintenance cleaning but not a deep wash, Mac Brush Cleaner disinfects and conditions brushes so you can start fresh.
Gentle enough for babies, this shampoo will work with makeup brushes too. Idriss opts for this formula because it sanitizes brushes, but keeps them soft.
There's no need for fancy gadgets to clean makeup brushes: all the professionals we talked to preferred to wash their brushes by hand.
Anthony keeps it simple by using warm water and Beauty Blender Blender Cleanser to clean his brushes.
"Never put the brush upside down, so that the water cannot go down to the part of the brush [where the bristles are] stuck to the handle," says Anthony. "They can easily rot if water gets in, causing them to fall apart." Sandev echoed this point, adding that a gentle hand and avoiding extremely hot water also helps preserve brushes when cleaning.
"It's also important to identify what hair or fiber the brushes are made of," says Anthony. "Different brushes need slightly different care: Natural hair brushes tend to need a more delicate treatment, while synthetic brushes can handle a bit more harsh washing."
As for the technique, celebrity makeup artist and founder of her namesake beauty brand, Monika Blunder, recommends "dipping the brush, swirling it in the soap, and then rotating it in your hands so the soap really penetrates the bristles and lathers up." healthy. She rinse and repeat until the water runs clear."
Then, gently press to remove excess moisture, reshape the bristles, and place them on a towel to air dry in a ventilated area. Blunder says that the edge of a sink works, with the brush head over the bowl. The makeup artist also reminds us that wet brushes should never sit upright to dry, as moisture can seep into where the bristles are attached and potentially compromise them.
While Blunder chooses to upcycle old glass candle jars to store her makeup brushes, there are a number of cases and carriers that are dedicated to this job.
This is Anthony's choice because the case has a closed lid to protect the makeup brushes from dust and dividers to keep them organized. Plus, the shoulder strap makes it easy to take the brushes anywhere.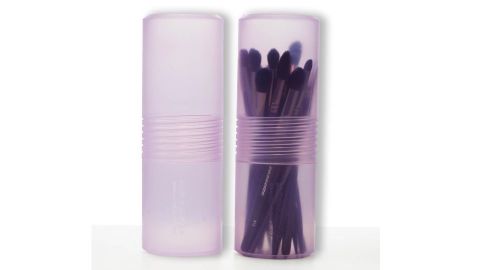 "I love brush canisters for my kit and always pack them in my carry-on when I travel to prevent any damage," says Sandev. His favorites are this case from Makeup For Ever and a long-lasting capsule from Cozzette Beauty. When he's not carrying his brushes, Sandev prefers to lay them flat.
Created by professional makeup artist Katie Jane Hughes, this brush set comes in a sleek green vegan leather bottle. "I love this kit because I keep my makeup brushes in the jar, brush side up between uses and they are very accessible and great for travel," says Idriss.