If you've just bought the new iPhone SE, congratulations: It's an impressive phone that certainly looks like it should cost more than $429. Speaking of costs, it's a good idea to protect that investment by putting a case on your phone.
We know shopping for cases and figuring out your specific needs can leave you scratching your head, so we've done the work for you. After spending time using a handful of iPhone SE cases from brands like Smartish, Lifeproof, Gear4, and Otterbox, we can offer some practical impressions. Here are some of the best options you can buy right now, from subtle clear cases to rugged models designed to take a beating.
Smartish is well known for affordable phone cases that offer a touch of personality to your phone. The Purse Killer Vol. 1 comes in black, blue, white or gray and offers a place on the back of the case to store three credit or debit cards, plus some cash. The card storage area adds some thickness to the already small iPhone SE, but allows you to stop carrying around a bulkier wallet. If the tradeoff is worth it, you can get Wallet Slayer Vol. 1 from Smartish for $20. If you want a completely custom version, the price goes up to $35, which is a steal.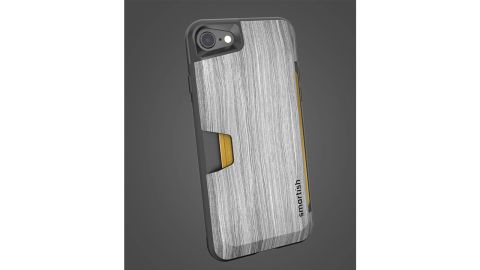 The Clever Purse Hunter Vol. 2 takes the same basic approach as Vol. 1, but swaps out the plastic for a material that looks and feels like leather. There's still enough room for up to three cards and some cash in the card holder, though we wonder if the material will stretch over time, making it possible to fit more cards. Or, for that matter, if your cards may be more prone to falling out. If you're digging the design, you can grab Vol. 2 of the Smartish Wallet Slayer for $20. If you plan to use any of Smartish's wireless charging wallet cases, remember that you'll need to remove your cards before placing your phone on a charging pad.
Gear4's Piccadilly case has a fun name, but it's all business when it comes to protecting your phone. Most of the case is transparent and shows off the color of your iPhone SE while adding a pop of color to its edges. We have the black model on our iPhone SE right now and it looks great. Gear4 claims that Piccadilly is designed to protect your phone in drops of up to 13 feet. Our only complaint is that a slight shine makes the Piccadilly slippery right out of the box. Our hope is that handling the case will mitigate this, making it less likely to get out of hand.
If you want a touch of rugged protection in a clear case, Otterbox's Symmetry Series is a smart choice. Otterbox is synonymous with rugged protection, and the company now offers thinner and lighter cases like the Symmetry series. The case itself is, well, sure, with buttons that are firm to press. A curious line on the case runs all the way around the perimeter, and after using the case, we realized that it's there to add a layer of gripping ability to your phone. Shiny.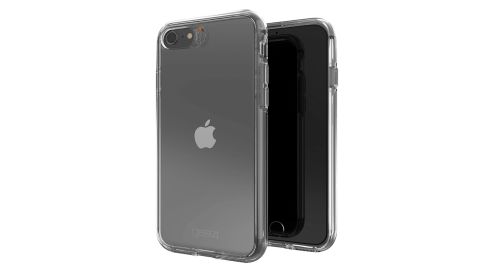 Another clear case that we have enjoyed using is the Gear4 Crystal Palace. It looks a lot like the Gear4 Piccadilly, but instead of having a colored line around the outer edge, the Crystal Palace's case is completely transparent. We also noted that its stiffer edges could make it more capable of withstanding abuse. That said, it's only certified for a 13-foot drop, just like the Piccadilly. As far as we're concerned, the difference between the two cases comes down to that extra splash of color.
The Lifeproof Wake series looks more like a traditional case, while offering a layer of protection and a unique pattern on the back of the phone. Made from ocean-based plastic, it's a durable case that will reportedly survive a drop from two meters or more than six feet. The rippled texture on the back is reminiscent of the sea, and speaking of which, the material used in the Wake Series is an ocean-based plastic. Our favorite part of the case? The side buttons come in different colors, adding a nice touch to the overall look.
If you're looking for a lower cost case with minimal protection, the Gripmunk Slim is the perfect choice. It's slim, although some might say almost too slim, allowing you to bend and twist it when not installed in a phone. But when it's on an iPhone SE, the grip on the sides ensures that it doesn't easily slip out of your hands. You can get a simple color like black or blue for $15, or a custom case for double the price at $30. The Gripmunk Slim won't offer best-in-class protection during a long drop, but it looks nice and will protect your phone. of daily wear.
The Gear4 Wembley Palette comes in a ton of different colors. Right now we have navy blue on our phone, but you can choose between grey, mint, lilac and scarlet. We like the look of this case, although it's not quite as sturdy as the other Gear4 cases we've covered. However, the top and bottom are reinforced, giving you just enough extra protection against occasional accidents, and the case still looks and feels like it could take a fair amount of abuse.
For someone who likes the look of Gear4 cases but wants extra protection, we recommend Battersea. There's nothing soft or pliable about the case, giving you confidence that it will survive a drop or seven. The back of the case has a rubberized semi-circle pattern, making it easy to grip and a good way to keep it in place when you put it down. You can get the Battersea in any color, as long as you like black. For what it's worth, Gear4 claims that the Battersea case is designed for 16-foot drops, which beats the other cases in terms of drop protection.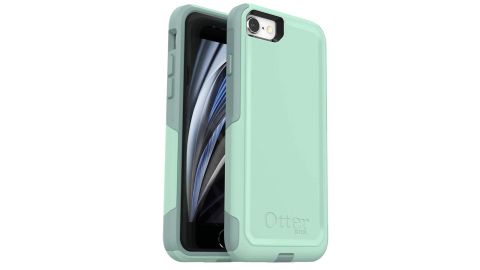 The Otterbox Commuter case is actually two different parts. There's a soft interior that wraps around the phone, with a tougher outer piece that adds another layer of protection to your phone. One benefit of having multiple pieces is that the Otterbox can mix the colors, giving it a different look than standard one-color cases. We have been testing the Teal version, but there is also pink, blue and black. There's also a charging port cover that adds extra protection when your phone isn't charging, preventing things like lint, dust, and dirt from getting into your phone's charging port.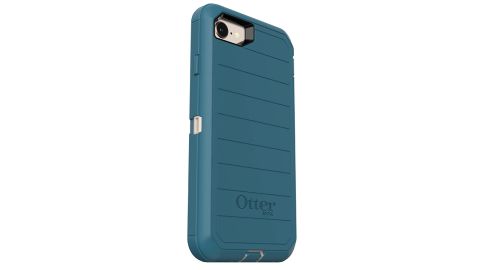 The Otterbox Defender Pro case adds even more protection to iPhone SE. Not only is it multi-layered like the Commuter case, it also has a built-in screen protector. The exterior of the case is made of rubber, which provides an easy-grip surface. Inside the box is a belt holster – yes, they still exist – allowing you to easily store your phone without a pocket or bag. We prefer a dedicated screen protector to the one included with the Defender Pro, but at $30, it's hard to pass up.
The iPhone SE has a water and dust resistance rating of IP67. That means it can survive being in a meter of water for thirty minutes. However, that rating does nothing to protect the phone's exterior if it falls off the kitchen table, and we like that the Lifeproof Fre case adds protection. and Greater resistance to water. With the Fre case on iPhone SE, your phone will be safe and sound in up to two meters of water for up to an hour, using the built-in screen protector and port covers. Our favorite part of the Fre? It's still small and slim, even though it's considered a rugged case.